Okemos' Chef Jacob Moccia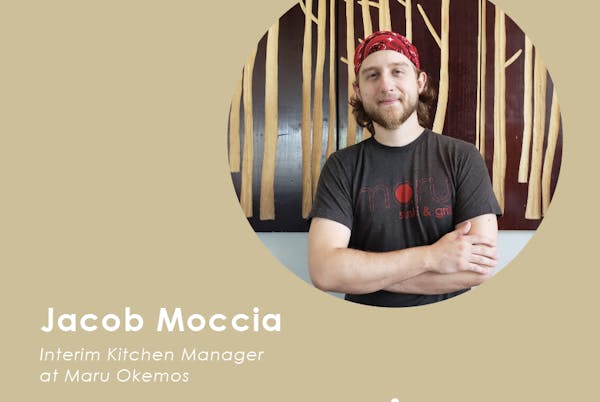 Meet Maru Okemos' Interim Kitchen Manager, Jacob "Sunshine" Moccia!
Jacob is part of Okemos' heart of house team, who is known to create some amazing desserts (like his Sunshine Creme Brulee), lead his team with passion, and dedicate himself to both food and hospitality
.
We asked Jacob a few questions about his journey with Maru and cooking, and here is what he had to say:
Q: What led you to where you are today?
A: Everything boils down to chance. About two years ago I accepted the role of a dishwasher. I didn't even know I was able to be this passionate about something. Cooking set my soul on fire and changed my life completely
Q: What do you think is the most important thing for a chef to learn?
A: Things can really only get so bad so don't fight the chaos or it will only consume you. Just stay calm and you will get through it.
Q: What accomplishment are you most proud of?
A: I cannot think of a specific instance of pride but I think it is very important to take pride in whatever you're doing with your life.
Q: What do you love most about Maru?
A: I have never felt so welcome in a working environment. We work as a team and care for one another whenever it's needed.
Q: What's your favorite thing to eat on the menu?
A: That would shamelessly be the Lemon Creme Brulee we were running last summer. Hands down the best I've ever had.
Thank you Jacob, for everything you do for Maru and your team!