Midland's General Manager Kaylene Carlisle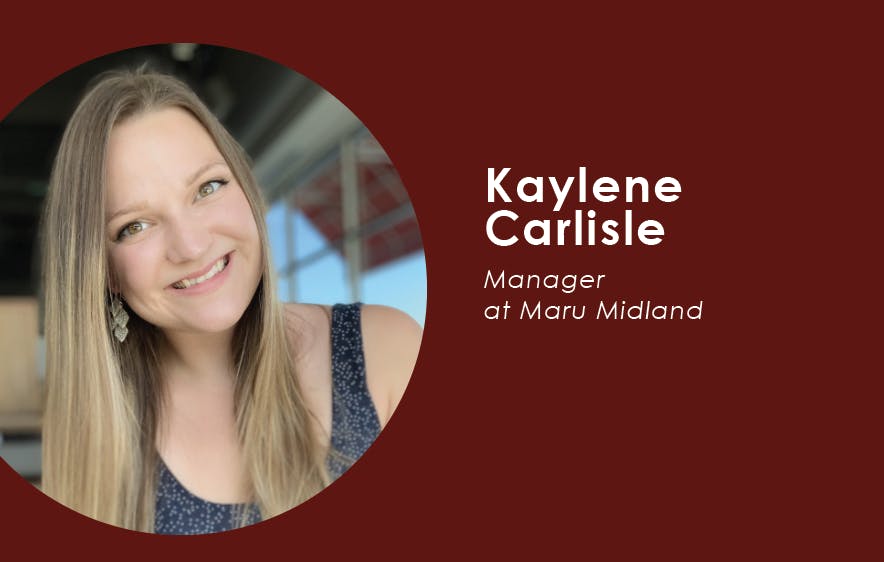 Say hello to Midland's Manager, Kaylene Carlisle!
Kaylene has been with Maru for about five years now, and one of her greatest gifts (among many!) is that she exudes warmth and hospitality. Her friendly, compassionate energy is contagious, making her a joy to work with and be around!
We asked Kaylene about her journey within the industry and with Maru, and here's what she had to say:
Q: What is your restaurant/hospitality philosophy?
K: I believe hospitality is not a word, but a feeling and a way of life. Being in this industry for the last 10 years, I have learned what that feeling truly is. It's giving your long time regulars a hug when you haven't seen them in a while, buying a bottle of champagne for the woman who fought breast cancer, calling someone to let them know that their favorite dish is back. There's so much to hospitality and I feel myself giving in ways I had never done before, not only in my professional life, but my personal life.
Q: What do you love most about Maru?
K: I feel like I have a second family here. I've been with Maru for 5 years now and I love that I am treated like family. We have cried together, laughed together, yelled together, been through everything you can possibly imagine together. Working for a company that makes you feel this way is rare to find. Maru has helped me through so much and I will be forever grateful for the people that have made Maru "Maru".
I also love the fact that we come together as a team and bring ideas to the table. I've never worked for a company that I could put my own creative ideas forward and love that we can do that here.
Q: What opportunities led you to where you are today?
K: I started working for a fast food restaurant when I was 16 years old and loved it. Two years later, I was offered a job at a dine-in restaurant. I knew I loved taking care of people, so I jumped on the opportunity and fell in love with it.
At the time I was actually going to school to be a nurse. Serving gave me the ability to go to school and work on the weekends. I did this for a couple of years and realized that nursing just wasn't for me and my passion for the restaurant industry kept getting stronger. When I heard about this "new sushi restaurant' coming to Midland, I had to check it out. I was hired and after my first week, I was offered the Assistant Manager position.I believe my hard work and commitment to Maru is why I am in the position I am today. I am thankful for all of the wonderful people who have helped me through this journey, especially Thomas Rossana who saw my potential and gave me the chance to shine.
Q: Where do you look for inspiration?
K: I find inspiration in helping those in need in any way I can. If that's just an ear to listen when someone is having a bad day, or providing a meal when their loved one is in the hospital, that's what keeps me going. I also find inspiration through my amazing staff. Without their passions, ideas, and creativity, things would be pretty dull! They keep me passionate and I couldn't do it without them!