Kalamazoo's General Manager Hannah DeHuff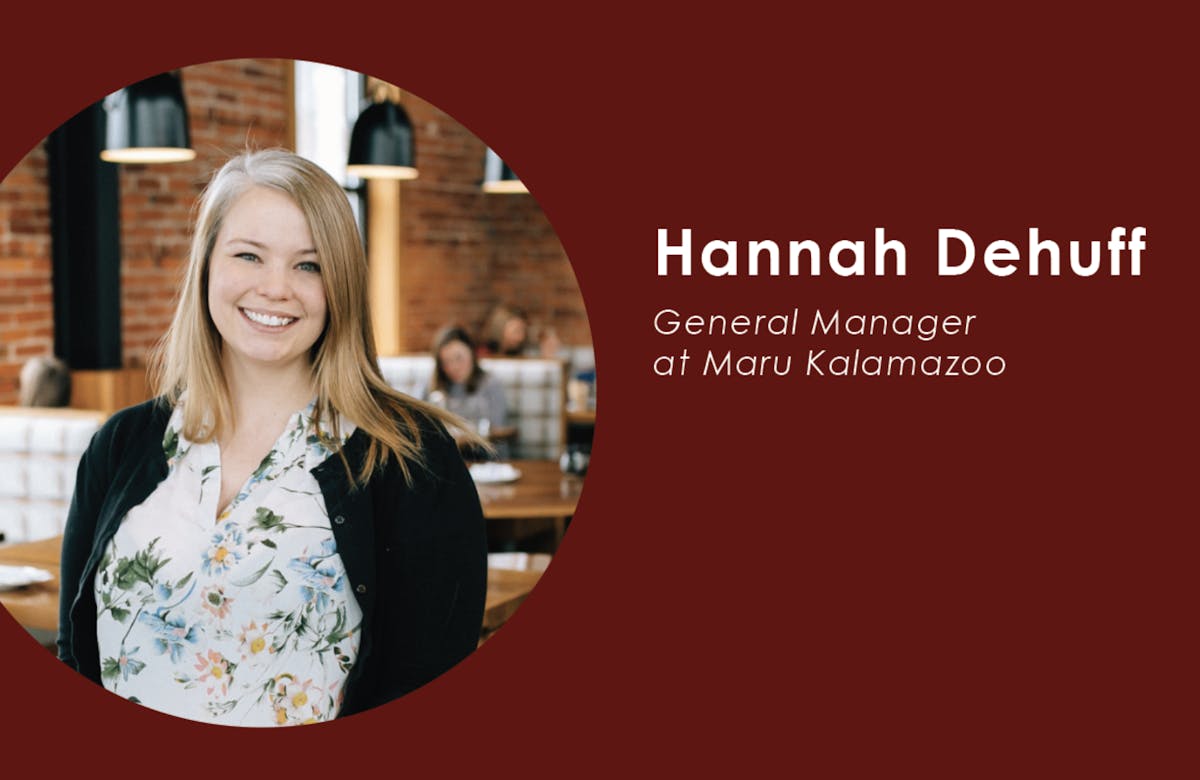 Say hello to Hannah, Maru Kalamazoo's Store Manager! Hannah has been with Maru for about a year now, and one of her greatest gifts (among many!) is that she has a way of making people at ease immediately when you come in contact with her. Her friendly, warm demeanor is apparent in all of her interactions, as she truly embodies what it means to be a great leader.
Hannah has found the perfect balance of leading by example, building up those around her, and encouraging those in her presence to be their best selves, every day. Her dedication to her work and relationships is no doubt a huge part of the Maru Kalamazoo heart and soul.
Hannah has been in the industry for 15 years, and therefore has rich, vibrant experiences she's collected on her journey. We asked her a few questions about her journey and industry philosophy thus far and here's what she had to say:
Q: What is your restaurant/hospitality philosophy?
Hospitality, for me, is a way of life. It's about making the people you come in contact with feel at ease and welcome, having genuine human interaction, and building lasting relationships. It's about going out of one's way to make someone else's life more comfortable, fulfilling, successful, enjoyable and fun… without them ever knowing you went out of your way to do so. This is something that I strive to achieve on a daily basis, both in the restaurant with guests, vendors, and our team, as well as in my personal life with friends and family.
Q: What is your philosophy on leadership?
My philosophy on leadership is actually one that I've adopted from Simon Sinek, "Leadership is not about being in charge. Leadership is about taking care of those in your charge." Those words really resonate with me! My leadership goal is ALWAYS to see those in my charge rise to greater heights than they think they are capable of and become their best selves. This requires a lot of nurturing, delegating, the application of steady pressure, and sometimes discipline and difficult conversations. Leadership comes with great personal sacrifice, but it is also oh-so rewarding.
Q: What do you love most about working at Maru?
How long do you have? Haha! I will try to condense the list; first and foremost, I love the people that I work with. From the team at Maru Kalamazoo to the extremely helpful and supportive managers at our other locations, all the way up to the MHG office and executive teams and ownership, we truly have some of the best people on the planet working here. I love the fact the Maru Culture puts people before dollars. Maru values education, personal and professional development and health, and invests in all of those things. I love working for an entrepreneurial company that is rapidly expanding and providing opportunities for people everywhere. I have to say the people again! I have made so many invaluable relationships in the short year that I have been with the company and I will be forever grateful for that.
Q: What opportunities led you to where you are today?
I have been in the Food, Beverage and Hospitality Industry for over 15 years now, each restaurant, bar and hotel that I have worked in has given me MANY opportunities to learn and grow, each has played an integral role in my professional development and brought me to where I am today. I had the great opportunity to work for Landry's Restaurants and Fertitta Hospitality Group, working for those companies helped me hone my service skills and learn what it is to provide true five diamond experiences. A lot of my leadership training and development I owe to working for IHG and Sysco Grand Rapids, LLC.
Q: Where do you look to for inspiration?
My husband inspires me daily, he has the most amazing entrepreneurial spirit and pushes me to challenge myself in new ways on a daily basis. He is in the industry as well so we often look to each other for new ways to overcome challenges and we like to bounce ideas off of one another.
Be sure to stop in and say hello to Hannah when you visit Maru Kalamazoo. No doubt you'll get a warm dose of the care and hospitality we strive to embody every day.