Regional Area Directors Hannah and Lorenzo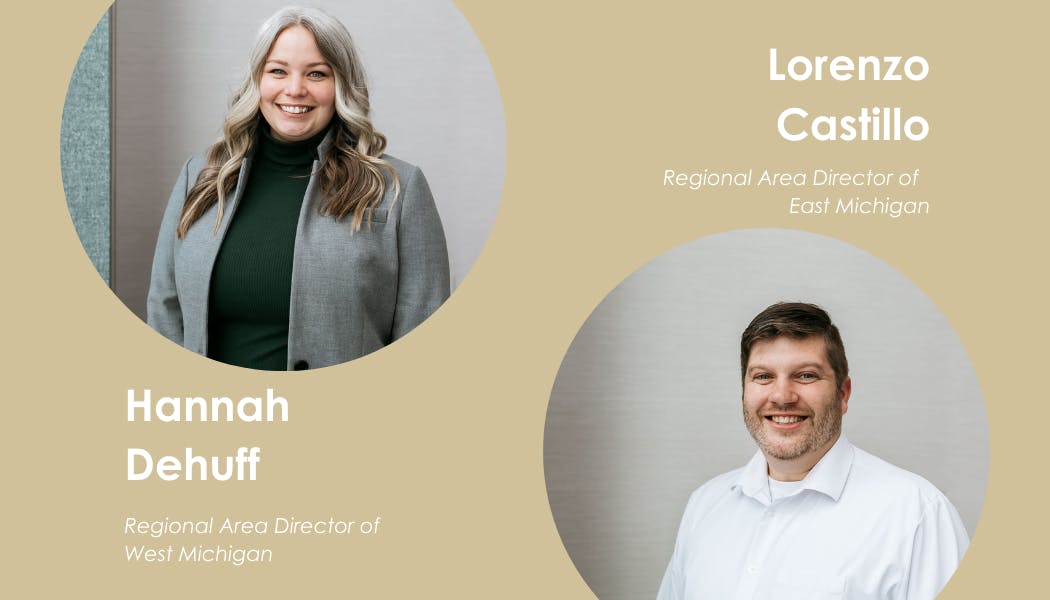 Meet Maru Hospitality Group's first ever Regional Area Directors: Hannah Dehuff and Lorenzo Castillo!
New Regional Area Director positions were created this year to support our teams as Maru continues to grow throughout Michigan. With extensive experience and passion for culture and hospitality, we are excited to have Lorenzo and Hannah in these new seats.
Hannah has been with Maru since April 2018, originally joining Maru as Kalamazoo's General Manager. She held that role until October of this year, when she was promoted to Regional Area Director of West Michigan. Working in the restaurant and hospitality industry her entire professional career, Hannah has held every role imaginable. She brings a wealth of experiences + knowledge to our team, and her passion for putting humans first is apparent in all of her interactions.
Lorenzo has held a number of roles during his 5+ years with Maru, including Maru Midland's General Manager, an Accounting Business Partner and Profitability Strategist before his promotion to Regional Area Director of East Michigan. Quickly taking to his accounting roles, Lorenzo mastered a number of skills from inventory and account management, to sales and analytics, propelling him into his current position. Lorenzo's work-ethic and desire for growth have allowed him to successfully lead those around him by example.
We asked Hannah and Lorenzo a few questions about their journeys with Maru thus far, here's what they had to say:
Q: What has been your most rewarding experience with Maru? Most challenging?
H: This year, I had the opportunity to work with our Detroit location and team to revamp and revive it. It was extremely rewarding to watch that store reopen and continue to thrive and grow! The most challenging was transitioning operations to takeout only with the onset of the Covid pandemic. It was a challenge to take a step back, take a breath, and completely overhaul the way we were accustomed to operating on a daily basis. With our most significant challenges come our greatest rewards; being part of a company that put its people and communities first was truly rewarding.
L: The most rewarding experience has been coming back to work in the restaurants after being away for a period of time. When I moved into my MHG roles, it was mostly office work. Once the pandemic hit I rejoined the restaurant team and it was amazing to see us work through the ups and downs together. It has also been the most challenging time because of the uncertainty - but I was able to make connections that wouldn't have happened otherwise.
Q: Where do you look for inspiration?
H: My husband inspires me daily, he has the most amazing entrepreneurial spirit and pushes me to challenge myself in new ways on a daily basis. He is in the industry as well, so we often look to each other for new ways to overcome challenges and we like to bounce ideas off of one another.
L: I look for inspiration from the people I work with, I try to emulate qualities that I want to see in myself. I also follow many different chefs and restaurant groups across the country for new ideas and processes.
Q: Which of our core values resonates with you the most?
H: This one is difficult; all of our core values align very well with my own personal values. I often find that certain ones resonate more in particular situations. If I absolutely must choose one, then it's that we have a zest for life!
L: We earnestly desire growth. This statement is as much a part of my personal life as it is my professional life. There is always the next step, another book to read, or progress to be made. This may mean that I work on a big project at home or take an online class - either way I am always focused on moving forward. Seeing those around me grow and become the people they want to be is the greatest part of the job. I love seaking out any new opportunity I can be a part of.
Q: What are your favorite memories from your time with Maru so far?
H: All of the manager workshops, the 2019 NRA (National Restaurant Association) show, and seeing many people in my care grow professionally, personally and tackle amazing things!
L: One of my Favorite Memories came right as the dine in restrictions were being lifted from the Covid pandemic. We got the pleasure of putting on a surprise engagement for one of our longtime regular guests. The whole family was there, she was completely surprised, and she said yes!
Q: What three words best describe Maru, to you?
H: Inclusive, quality, fun!
L: Fun, experimental, hospitality. Maru is a fun experiment in hospitality. We try new things and are open to changing our way of thinking - all with the goal of providing the best experience we can for our guests, employees and vendors.
Q: What is your favorite dish on the menu?
H: The K-Pop or Blackpink. I love kimchi! Or, a beautifully crafted omakase from one of our many talented chefs.
L: My Favorite dish would have to be the Miss Saigon. I love how all of the textures work together, it's bright and fresh, and the sauces compliment it perfectly.
We are eager to have Hannah and Lorenzo as our first ever Regional Area Directors to aid our efforts of creating meaningful opportunities to impact lives through thoughtfully-prepared sushi and hospitality.