Maru Hospitality Group's Director of Culinary Operations Ryan Wabeke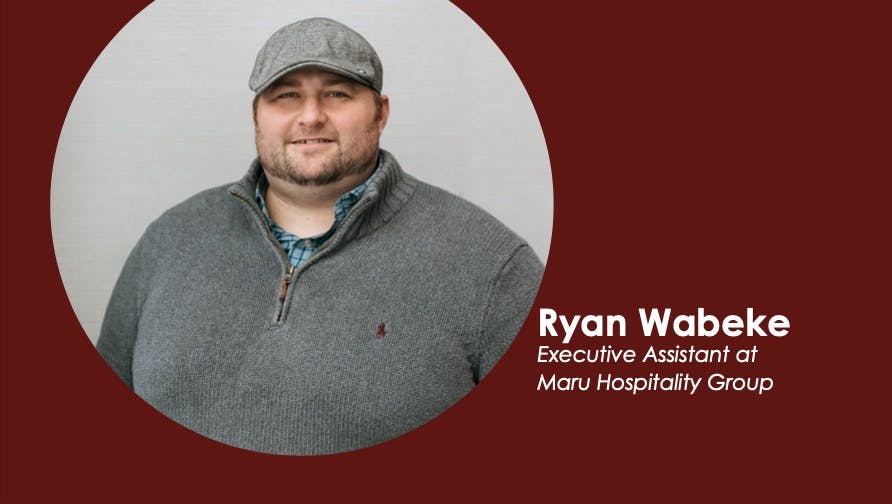 Meet Maru Hospitality Group's Director of Culinary Operations, Ryan Wabeke!
Ryan has been an invaluable member of our culinary team at Maru since February of 2013, recently beginning his tenth year with us! Starting as a Kitchen Manager, his leadership ability and passion for the creation of thoughtfully prepared sushi led him to becoming our Director of Culinary Operations in late 2019. He has been a key leader in the opening of multiple locations and has thorough knowledge of every 'in + out' of Maru.
We asked him a few questions about the culinary space and his journey with Maru so far, here's what he had to say:
Q: What is your philosophy on food?
My philosophy on food is to keep everything in balance. Whether you're speaking textures, acid, or fat, too much of any one element can really sway a dish. I try to keep this in mind when creating new dishes or cooking at home for my family.
Q: What is your favorite interesting fact or tidbit about Japanese cuisine that you've learned during your time with Maru?
The difficulty in Japanese food is rooted in its simplicity. The amount of time we spend perfecting our sushi rice, seemingly the simplest of recipes, is astounding (but necessary!). The attention to detail we use to perfect basic ingredients like rice, fish, and vegetables is what sets Maru apart.
Q: As our Director of Culinary Operations, what advice do you have for someone just starting their culinary career that has aspirations of someday holding a similar position?
Learn as much as you can from those around you. Ask questions, know the 'why', and be humble. Every day I learn something new from others that I can apply to my own work. I'm lucky to be surrounded by an incredible group of individuals that help me be successful. My last piece of advice is to be resilient, you will most likely fail a time or two (or three), it's how you recover from those failures that will determine your success.
Q: What are some of your favorite Maru memories + moments?
Opening four new locations over the span of two years was crazy, I was like a Michigan nomad! But getting to see all of them grow from the construction stages, through the opening process, to where they are today has been incredibly rewarding. I even met my wife while opening the Midland location! My other favorite moments center around the time I've spent visiting each location, talking with our chefs and learning more about them. As long as I've been at Maru (I can't help but feel like a dinosaur at times), talking with newly hired chefs and seeing the passion they have to begin their journey keeps me going!
Q: Which of our core values resonates with you the most?
The one that hits closest to my heart is 'Earnestly Desire Growth'. I'm confident in knowing that I don't know everything, and even in my role I'm still constantly learning new things. I think that humility has certainly helped me in my position and allows me to engage with our teams on a special level.
Q: What is your favorite dish on the menu?
Anything Omakase, I love the empowerment and guest trust our sushi chefs receive when chef rolls and chef platters are ordered. No two platters are the same and they really allow our chefs to create on the fly and think outside of the box. That freedom of creativity excites our team and they become competitive with each other on who can craft the best roll or plate of beautiful food. Unfortunately, due to the strains of the pandemic we had to temporarily remove some of these options, but when we were able to slowly bring them back our teams rejoiced!
Maru would not be where it is today without you, Ryan! We can't thank you enough for all of the time, effort and thoughtfulness you have given us.