Kalamazoo's Chef Kadeeja Baker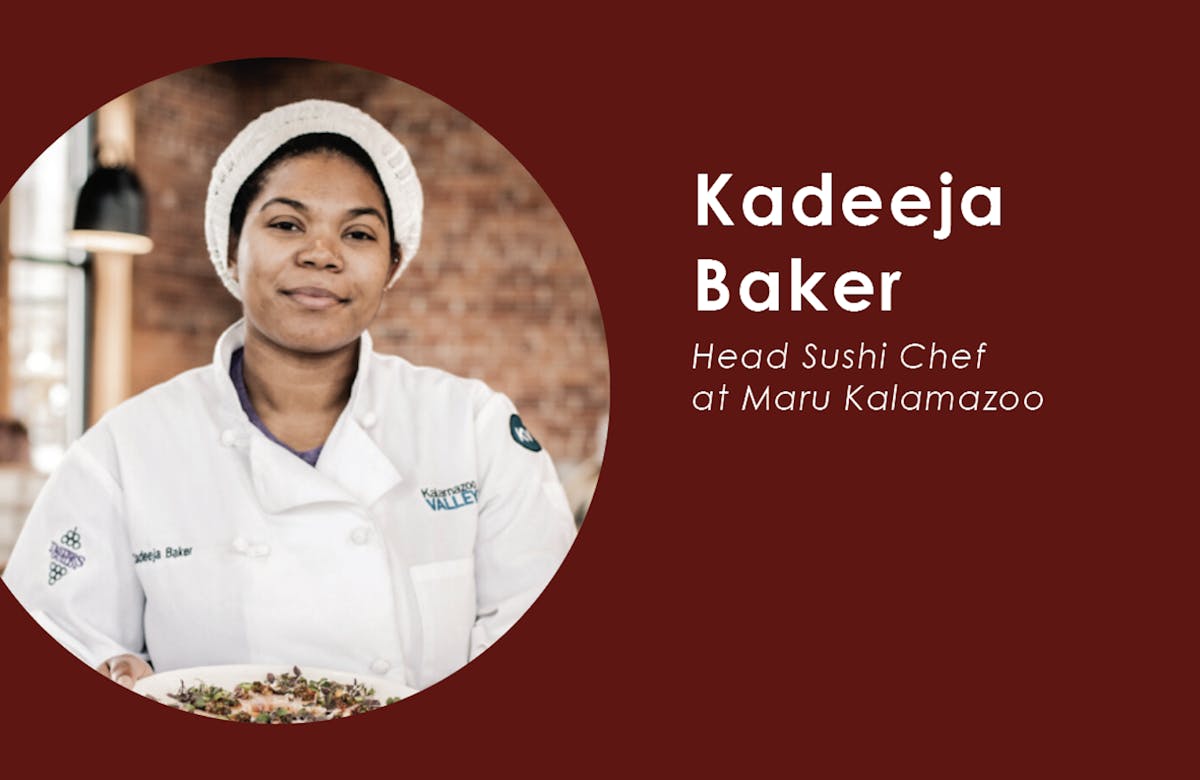 Meet Maru Sushi Kalamazoo Head Sushi Chef Kadeeja Baker!
Kadeeja embodies what it means to be a passionate leader and chef. She is part of Maru's Apprenticeship Program, proving she is eager to learn what it means to be in a leadership role in the industry, accompanied by a deep zest for food and hospitality.
We asked Kadeeja a few questions about her journey with Maru and cooking, and here is what she had to say:
Q: What led you to where you are today?
K: There are a few things that led me to where I am today. School, friends and family, and myself. When I originally started in school, I was in two different programs. I realized I was doing both to please others and not myself. My friends and family advised that since I loved cooking I should try a culinary school, so I did. Kalamazoo Valley offered a program and I decided to move forward and start a new journey as a cook. Throughout my life, I've always pleased those around me and I realized it was time for me to do what I loved to do, which was cooking. 2 years of culinary school, a few cooking jobs later, and that's when I arrived at Maru.
Q: What do you think is the most important thing for a chef to learn?
K: For me, I think it's important for a chef to know how to listen/speak, follow/lead, and how to learn from others. It's important that chefs can communicate with their employees, yet it's also very important for them to listen to their crew and take their ideas into consideration. I think good leaders start off as followers and then learn to lead. You gain a lot of experience when following that can be used in leadership. Having an open mind and learning from others gives a slight advantage to those who aspire to be better. There are many chefs in the world which means there could be thousands of approaches.
Q: What do you love most about Maru?
K: What I like most about Maru is that there is a potential to grow as a chef, to grow in leadership, and grow as an individual. When I first joined Maru, I knew I wanted to learn more about many types of cuisine and Japanese cuisine was one of them. As I began to train, I started to grow as a chef understanding different ingredients, fish, and flavor pairings. With knowledge comes understanding. My hard work was seen by my superiors and then began my leadership training. Being given the opportunity to lead made me speechless and I am very grateful for where I am today. I have grown as an individual working at Maru in many ways, specifically in confidence in what I do, but also as a leader.
Q: What's your favorite thing on the menu?
K: On the menu, my favorites are the Ocean's 11 and the Sexy Bacon from the sushi line. From back of house, the Yaki Udon and Fried Tofu.
Q: As a female head chef, do you have any advice for women starting out in their career?
K: First, have confidence in what you do. Whether you are cutting a flank steak or chopping vegetables, know that you control the story being told with your food. Understand mistakes happen, but think about what you can do after or during it to fix it. I think Julia Child said it best: "If everything doesn't happen quite the way you'd like, it doesn't make too much difference, because you can fix it."
Have confidence, take control, and don't be afraid to correct mistakes. Believe in yourself and you will succeed.
Maru is lucky to have you. Thank you for all you do, Kadeeja!