East Lansing's Manager Josiah Moore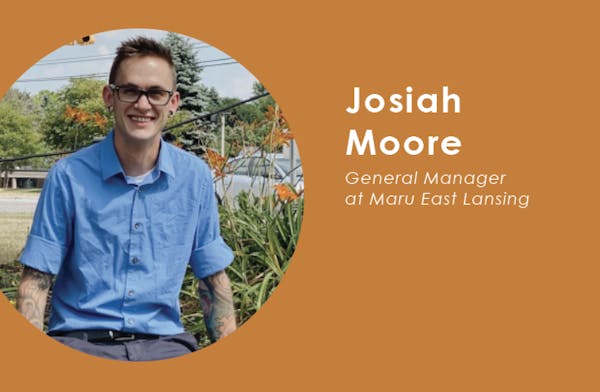 Meet Maru East Lansing General Manager, Josiah Moore!
As a true leader, Josiah can be seen going above and beyond for not only every guest that he comes in contact with, but his team members, too. His passion for hospitality and commitment to growth no doubt make him a key member of the East Lansing team!
Josiah has been in the industry for many years, and therefore has rich, vibrant experiences he's collected on his journey. We asked him a few questions about life in the industry thus far and here's what he had to say:
Q: What is your hospitality philosophy?
J: My hospitality philosophy can be summed up in one word: Kindness. Other elements that build into the philosophy are: Empathy, Intellectual Curiosity, Emotional Intelligence and Integrity. I firmly believe that the entire industry should be run and operated with these ideas in mind, kindness being at the core. Kindness can be applied to everything we do: how we treat our guests, how we treat our team members, how we treat ourselves, how we treat our product, and how we treat our vendors... it applies to everything. When you take this approach, I believe that it creates an environment where creativity can flourish, where bright minds can shine, where everyone can feel safe, welcomed, and valued, where criticism can be received with grace, and where the entire team can understand that we all are working towards the same goal.
Q: What do you love most about Maru?
J: I truly love and appreciate the diversity that you can find in any aspect of the business. Starting from the top with the executive team, all the way down to our teams in each store; I love that we have different educational backgrounds, different phases of life, and the most beautiful representation from the entire rainbow of humanity! Even better, is that we all are working to help each other succeed and reach higher heights!
Q: What opportunities led you to where you are today?
J: Beginning (a LOOONNNGGG time ago haha) in my first kitchen as a dishwasher, and having a chef tell me that I would become the best, and being taught to prep. To the first chef to put me into kitchen leadership, and to take the time to teach me what it means to be a chef. To most recent opportunity, being able to serve as the GM for East Lansing (the best Maru team, in my opinion ;) ), to lead with some of the most talented hospitality leadership I have ever met, and to create massive and positive impacts into our communities!
Q: Where do you look for inspiration?
J: First and foremost, I look to my team for inspiration, they are the core of what I do as a leader, and that provides me inspiration to give them the best environment to work in and to help build towards more success. Second, I look to problems/issues for inspiration, I get inspired to solve problems that need to be (or cannot be solved by others). I take inspiration from looking towards the future and seeing what the future me wants to have achieved or how I have impacted lives.
Thank you Josiah, for all that you do for your team and for Maru!