East Lansing's Chef Matt Jones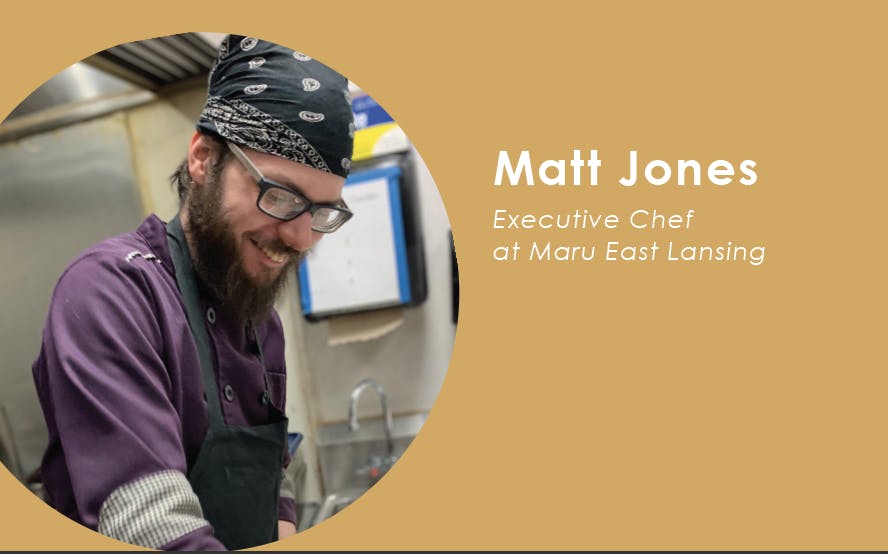 Meet Maru East Lansing's Executive Chef, Matt Jones!
Matt's quiet humility, humble teaching approach, and love of food and cooking, make him not only a true leader in the kitchen, but an excellent teacher to those around him.
Matt has been working at Maru for many years, starting off in the kitchen at Okemos, traveling to various stores to train and help those at other locations, and now primarily at East Lansing. He shines in every kitchen he's in, simply by helping those be their best selves.
We asked Matt a few questions about his journey with Maru and cooking, and here is what he had to say:
Q: What led you to where you are today?
M: I got involved in kitchen work because I wanted to study more about food. It was very enthralling as business and I started practicing more and more. My friends and family had always pushed me to try new things and practice new techniques. After a while traveling around, I came home and started working at Maru. It was a new type of cuisine to me and I practiced hard to get better at it. Chef Moon was a good teacher and helped me grow into more than just a line cook or a sushi chef.
Q: What do you think is the most important thing for a chef to learn?
M: A respect for the food you're using. Its chemical properties so you know how to handle it, its flavors so you know what to pair it with, its historical and cultural relevance to why we use it,
Q: What do you love most about Maru?
M: The chance to teach so many aspiring chefs and cooks. To help them along, as their passion and skill grow, has been quite rewarding. I didn't think I'd have a chance to work with so many chefs on a regular basis, so this has been a great opportunity.
Q: Where do you look for inspiration?
M: A mix of random books and articles help keep things fresh. I try to draw on some of the more interesting concepts I noticed or experienced while I was traveling. Also my friends and family are always pushing me to try new things and challenges.
Thank you Matt, for the gifts you bring to Maru and those around you!