Detroit's General Manager Deborah Neighbors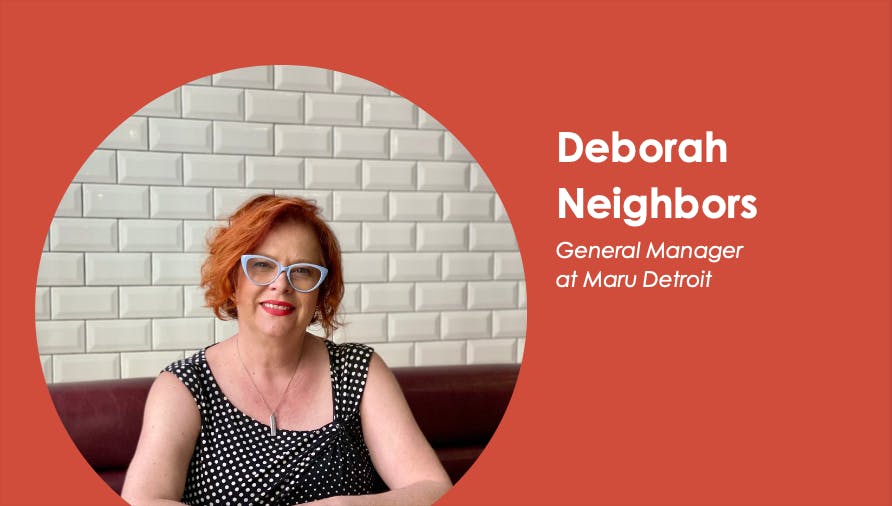 Meet Maru Detroit's General Manager, Deborah Neighbors!
Though Deborah has only been with Maru since mid-Summer, she has been a pivotal leader in the reopening of our Detroit location. She is a member of the International Sommelier Guild and brings 30+ years of restaurant + hospitality experience to the Maru Detroit team - her passion for food, hospitality and team-building is never in doubt.
We asked Deborah a few questions about her journey in the hospitality industry and her time with Maru so far, here's what she had to say:
Q: What opportunities + experiences have led you to where you are today?
I have been in the restaurant and hospitality industry for the past 35 years - I've had the pleasure to work in restaurants all over metro Detroit, as well as Pittsburg, Cincinnati and in the Memphis area.
Q: What is your philosophy on leadership in the restaurant + hospitality space?
You must lead by example and bring empathy to the role. Be honest with your team and willing to help out whenever and wherever you are needed. You need to be able to have fun but also dig deep and prove your grit when the dinner rush hits. Always seek growth and be open to learning new things.
Q: What are your favorite ways to spend your free time outside of Maru?
I love to travel, anywhere and everywhere! When at home, I enjoy cooking and learning to make new dishes and drinks.
Q: What has been the most rewarding part of your experience with Maru so far?
I have thoroughly enjoyed seeing how our core values are actually utilized and not just words on the wall. It has also been so much fun to hire new team members and watch them grow together through the reopening process. Everyone has been wonderful to work alongside.
Q: What is your favorite dish on the menu?
The Cherry Bomb!
We're grateful to have you as a member of the Maru family, Deborah. Be sure to say hello next time you stop by Maru Detroit!