allergies + alternative diets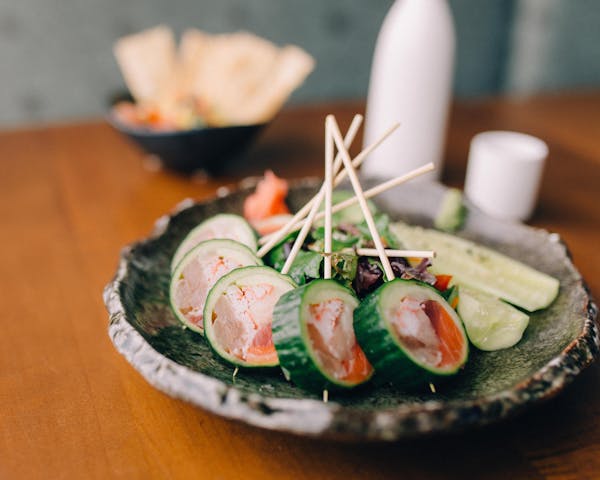 We understand that people have different eating habits, and at Maru we want to make sure that everyone has something delicious to enjoy. We take many steps to ensure our staff are trained and allergen-aware. We also have both a separate Gluten-Free and Vegan Menu on hand when you visit us at the restaurant.
Because our sushi rolls and hibachi grills are scratch-made, we are able to accommodate many different diets and preferences. Below are some of the most common ways our guests modify their meals at Maru.
Gluten-Free
We have a variety of dishes that are gluten-free, or can be made gluten-free with a few ingredient or sauce changes. Take a peek at our Gluten-Free Menu online or ask your server to see a menu when you dine in with us.
One of our favorite rolls off of our gluten-free menu is the Rising Sun, rolled with yellowtail, Serrano peppers + basil oil. End your meal with a gluten-free Vanilla Bean Cheesecake for an extra treat.
Vegan + Vegetarian
Good sushi doesn't always need fish to be tasty! Our Director of Culinary Operations, Moon Yang, takes pride in crafting up delicious veggie options that use high-quality, interesting ingredients. Enjoy a Rio Grande with red pepper and guacamole, or try the Archer with house made green goddess, tofu and mango. Pair with a french-pressed hot tea to complete your meal.
Many of our vegetarian dishes are vegan or can be made vegan with a few sauce/ingredient swaps. Take a peek at our Vegan Menu or ask your server for one when you dine in with us.
High Protein
One of the best options for those looking to watch their protein to carb ratio is to order a high-protein menu item, like fresh sashimi or a hibachi grill, and skip the rice. At Maru we love rice of all kinds (sushi means 'rice' in Japanese), but it's an option for those looking to up their protein and reduce their carb intake. Plus, our high-quality cuts of fish make sashimi a delicious, yet healthy, option.
It is important that you also mention any allergies or modifications to your server, so they can alert our chefs about dishes they need to specially prepare for you. Cheers!