Detroit's General Manager Toby Jones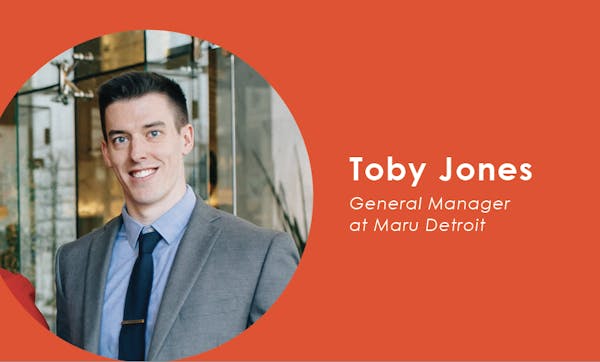 Meet Maru Detroit General Manager, Toby Jones! A key member of the Maru Family, Toby's passion for people, hospitality, and diligence to his work shines through in every project he touches.
With years of entrepreneurial experience and time spent in leadership at both Maru East Lansing and Detroit, Toby's commitment to his team and his work is a vital part of the Maru essence.
We asked Toby a few questions about his journey in the industry, what inspires him, and how he got where he is today, and here's what he had to say:
Q: What experiences/opportunities led you to where you are today?
T: The biggest experience and event in my life that I feel ultimately shaped me into the person I am today was when I owned my business. I started up my own wellness and fitness company in 2012 when I was 23 years old. Prior to that, I lacked focus and inspiration, jumping jobs, and cities with no real goals or ideas of what I wanted to achieve. Even once I started, I had no idea what I was doing but I poured everything I had into my business and began focusing on my own growth. I read dozens of books on business, fitness, and leadership, trying to learn everything I could about running a successful business. I started networking and creating connections through local events and seminars. It was amazing how many people believed in what I was trying to create and how quickly people wanted to connect. The growth, in the beginning, was slow and I didn't turn a profit for nearly 2 years, working odd jobs on the side to cover my bills and putting every extra penny back into my business. I removed my safety nets and dove in at that point, pushing myself to work every hour of the day and night with this strange obsession to become successful.
In 2017 I had to give up my business. There were a lot of circumstances that led to moving away from it. At the time I saw it as a huge failure in my life. Now I look back and realize I learned more from those 5 years than at any point in my life. I created lasting relationships, meeting some of my closest friends now. Entrepreneurship is something I plan to revisit in some form again in my future and the past 3 years have really helped me grow in confidence and be more accountable to myself and others.
"You are the sum total of everything you've ever seen, heard, eaten, smelled, been told, forgot - it's all there. Everything influences each of us, and because of that I try to make sure that my experiences are positive." Maya Angelou
Q: What is your philosophy on leadership/managing?
T: I have always felt that you have to lead by being the example continuously. How you handle difficult situations and carry yourself in your day to day will ultimately reflect on you as a leader through your team.
Everyone has bad days but how you respond and react to those experiences will be remembered. It's in these moments that leadership is tested. I certainly am not perfect and have made plenty of mistakes but making mistakes is a huge part of growing as a leader, and if you aren't growing, you're dying.
Q: What do you like the most about Maru?
T: That's easy, it's the people. Having the opportunity to connect with people daily, both co-workers and our guests are some of the best in the world and I believe I have made lifelong relationships with some of them. Some have made a lasting impression on me and helped me to grow and inspired me to do more than just run a restaurant. We've created a place where people can connect in a meaningful way through the simplest of human needs in one of the most unique cities in the world. It's really incredible to me and something I have taken for granted at times.
Q: Where do you look for inspiration?
T: I usually seek inspiration through nature and physical activity. I love being outdoors and enjoy the challenge of new activities. By disconnecting from the hustle and often chaotic energy that's typical within a restaurant, it brings clarity and tranquility, giving me the opportunity to center myself and focus on the moment.
Q: What is your favorite thing on the menu?
T: There's nothing quite like ordering a Chef's Special Roll. I love seeing the creativity coming from our chefs and the unique combinations they come up with. You definitely have to be open to trying something new or different.